Fuel Injector Filter Basket
LVXING provides various of automotive fuel injector filters,they are made of stainless steel woven wire mesh,wrapped with brass rim edge.These fuel injector filters are available in different size,variants and specifications.They are highly durable with robust structure and have features of anti-abrasive and anti-corrosive in single layer and mutilayers.
Material: Stainless steel mesh,brass/copper crush ring.
Models: F509C F509A F509B 11009 11017 etc.
Manufacturer: Lvxing Technology
Specification:
Size: 10.5*4.1*4.0 mm(+-0.05mm)
Total height: 10.5 mm
Copper ring height: 4.0 mm
OD of copper ring: 4.1 mm
Mesh count: 100 150 200 mesh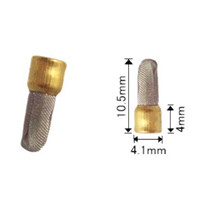 Features:
1)This micro filter basket is durable and strong that makes the filter more effective for oil filtration;
2)No burr,no move wire,long service life;
3)It can be cleaned repeatedly and economically.
Application:
Installed at the fuel inlet neck of fuel injector,prevent impurity from entering into oil pump,ensure the life of the fuel pump and driving safety.