SPL and DPL Hydraulic Lubrication Filter Disc also known as oil wire screen filter disk,suitable for filtration of various types of thin oil lubrication devices to improve oil cleanliness,used in petroleum,electric power,chemical industry,metallurgy,building materials,light industry and other fields.

Each SPL oil disc filter is made of 4 layers stainless steel or copper woven wire cloth plus 1 layer perforated supporting sheet.The outer fine wire cloth for filtering,inner coarse wire mesh and perforated sheet are only for supporting.

Specification
Material:Aluminum,304 316 316L stainless steel wire,copper wire etc;
Filter media:Phosphor copper wire mesh,stainless steel plain weave mesh/twill weave mesh and dutch weave wire mesh,etc.
Accuracy:5-400um,40 mesh 60 mesh 80 mesh 118 mesh 158 mesh 200 mesh 264 mesh 300 mesh 363 mesh;
Model:SPL-15 SPL-25 SPL-32 SPL-40 SPL-l50 SPL-65 SPL-80 SPL-100 SPL-125 SPL-150 SPL-200;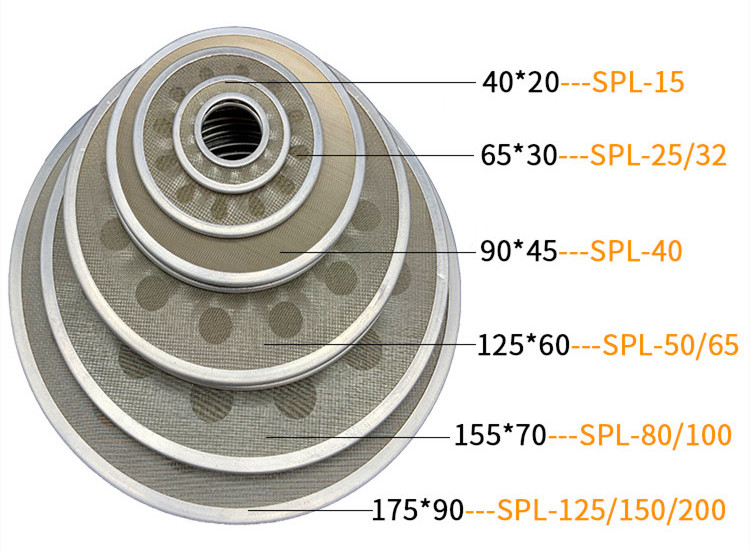 Feature
1)Filtration accuracy 5-400 um;
2)Large flow and high filtration efficiency;
3)Max working pressure 0.8 Mpa,max working temperature 95 degree;
4)Cleaning pressure drop max 0.15 Mpa;
5)Corrosion resistance,long service life;
6)After ultrasonic cleaning,it has high cleanliness and can be reused.

Application
It is used in the oil system of ships,diesel engines,thin oil stations and other equipment.
1) Textile industry
Purification and uniform filtration of polyester melt in drawing process,protective filtration of air compressor,oil and water removal of compressed gas.
2) Electronics and pharmaceuticals
Pretreatment and filtration of reverse osmosis water and deionized water,pretreatment and filtration of detergent and glucose.
3) Thermal power and nuclear power
Purification of lubricating system,speed control system and bypass control system of gas turbine and boiler,purification of feed water pump,fan and dust removal system.
4) Machining equipment
Lubrication system and compressed air purification of paper machinery, mining machinery, injection molding machine and large precision machinery, dust recovery and filtration of tobacco processing equipment and spraying equipment.
Tags:SPL and DPL Filter Disc,Oil Lubrication Filter Disc,Hydraulic Lubrication Filter