Pleated Filter Cylinder is also called metal folding filter element,corrugated filter element.Its filter media can be stainless steel woven wire mesh or sintered stainless steel fiber web.

Stainless Steel Woven Wire Cloth is made of high quality stainless steel wire.Fine woven micron mesh usually works as control layer,and coarse woven mesh usually works as strengthening layer or support layer for the pleated filter elements.

Stainless Steel Sintered Fiber Web / Felt is a kind of durable and pleatable 316L stainless steel medium,sintered into a graded pore structure.The sintered metal felt enjoys the advantages of high porosity rate,lower resistance,more filtration area,high dirt holding capacity and can be repeatedly used.

Material: Stainless steel 304,304L,316,316L

Technical Data
1.Working pressure:30Mpa
2.Working temperature:300 degree celcuis
3.Dirt holding capacity:16.9~41mg/cm2

Feature
High dirt holding capacity
High reliable standard specifications
It has low pressure drop due to high porosity
It has accurate filtration rating
Easily cleanable by conventional chemical cleaning and with a long life-span
Filtration area of pleated stainless steel filter element is increased by pleating
It can use ultrasonic,chymistry to clean,and can be repeatedly used;can also be bounce-back cleaned without dismantling on the product line,then saving the time
Strong corrosion,acid and alkaline resisting property.


Structures and Layers of Pleated Candle Filter Elements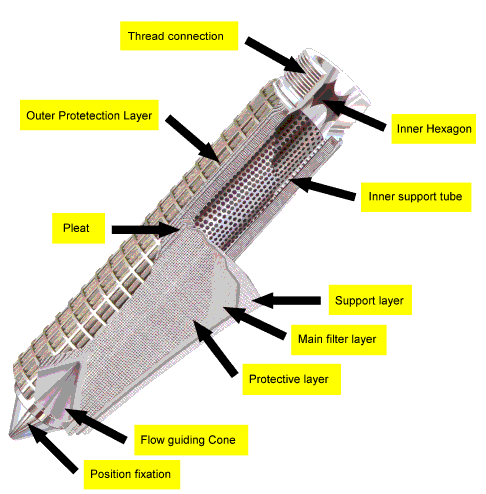 Fittings and Components for Pleated Candle Filters
1) Standard connector(220,222,226) 2) Snap coupling 3) Thread connection
4) Flange connection 5) Rod connection 6) Special customization.
Popular Specifications of Stainless Steel Sintered Web

| | | | | | | |
| --- | --- | --- | --- | --- | --- | --- |
| Model | Filtration accuracy(μm) | Air-permeability(L/min •dm²) | Bubble pressure point(pa) | Porosity | Dirt holding capacity(mg/cm²) | Thickness(mm) |
| SSSW-5 | 5 | 47 | 6600 | 75 | 5 | 0.54 |
| SSSW-7 | 7 | 63 | 5000 | 76 | 6 | 0.54 |
| SSSW-10 | 10 | 105 | 3700 | 77 | 6 | 0.54 |
| SSSW-15 | 15 | 140 | 2450 | 79 | 7 | 0.54 |
| SSSW-20 | 20 | 280 | 2000 | 80 | 13 | 0.54 |
| SSSW-25 | 25 | 360 | 1500 | 78 | 19 | 0.54 |
| SSSW-30 | 30 | 520 | 1230 | 79 | 34 | 0.54 |
| SSSW-40 | 40 | 670 | 960 | 79 | 34 | 0.54 |
| SSSW-60 | 60 | 1300 | 650 | 85 | 36 | 0.54 |
Specification of Woven Mesh Pleated Filter Cartridges with Layers Introduction
Filter Fineness (um)

Mesh Protection Layer

Fine Cloth Control Layer

Neutral Layer

mesh

Strengthening Layer

coarse mesh

Strengthening Layer

coarse mesh

Layer Thickness

Air Permeability

(L/Min/cm2)

Bubbling Pressure

1
200
400*3000
200
12*64
64*12
1.7mm
1.81
360-600
2
100
325*2500
100
12*65
64*13
1.7mm
2.35
300-590
5
100
200*1400
100
12*66
64*14
1.7mm
2.42
260-550
10
100
165*1400
100
12*67
64*15
1.7mm
3
220-500
15
100
165*1200
100
12*68
64*16
1.7mm
3.41
200-480
20
100
165*800
100
12*69
64*17
1.7mm
4.5
170-450
25
100
165*600
100
12*70
64*18
1.7mm
6.12
150-410
30
100
400
100
12*71
64*19
1.7mm
6.86
120-390
40
100
325
100
12*72
64*20
1.7mm
7.1
100-350
50
100
250
100
12*73
64*21
1.7mm
8.41


75
100
200
100
12*74
64*22
1.7mm
8.7


100
100
150
100
12*75
64*23
1.7mm
9.1


150
50+100+50+30+30+100+50
2.0mm
25


200
40+80+40+20+40+80+40
2.0mm
26


Tags: Pleated candle filter element,
Pleated filter cylinder,Polymer Melt Candle Filter