The water distributor is to evenly arrange the water quantity on a certain filter media area according to a certain rule.The device to complete this task is called upper water distributor.If water is collected in a certain area of filter media according to a certain rule and the filter media does not pass through the water distributor,it is usually called the lower water distributor (water collector).The water distributor is commonly used in water treatment filter or ion exchanger for middle and upper discharge.
Classification of water distributor
1.Stainless steel wire wound water distributor,also named water wedge wire distributor;
2.Multi hole plate water distributor,perforate holes on the plate,then install water cap;
3.Dome plate water distributor.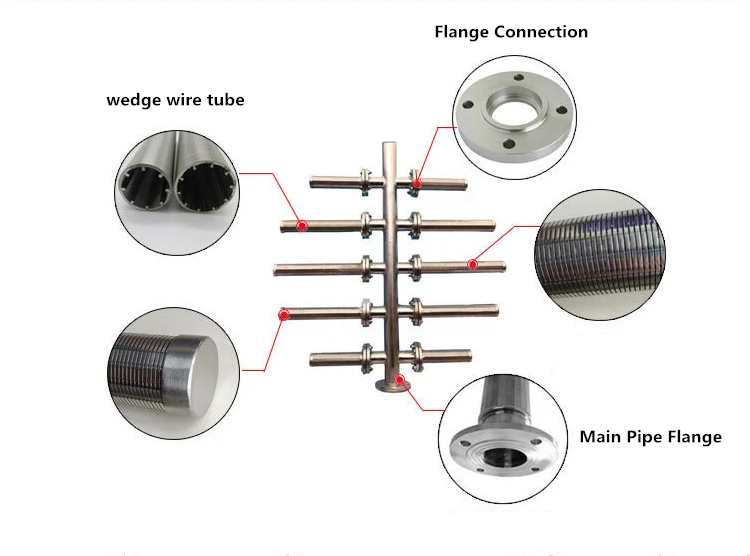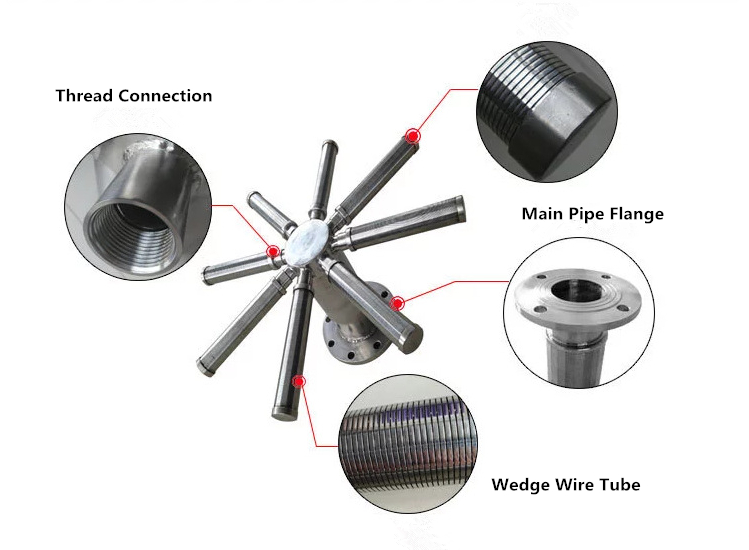 Water wedge wire distributors are our featured products,include Header Laterals and Hub Radial Laterals.It is commonly used in the upper and lower water distributors of mechanical filters such as quartz sand filter,activated carbon filter and multi-media filter,and also used for the middle discharge,upper discharge and upper and lower water distribution of anion and cation exchanger.
Specification of Water Wedge Wire Distributors
Material

Stainless steel AISI/SUS 304,304L,316,316L,321,904,duplex 2205,2507,Hastelloy,etc

Normal Lateral Tube QTY (PCS)

4,6,8,12,16,etc. (depends on the usage,actual flow rating requirement)

Lateral OD Range (mm)

25 to 80 mm (customized according to customer requirements)

Normal Hub (mm)

108,133,219 (customized according to customer requirements)

Hub and lateral connector types

Thread,Flange

Diameter Range(mm)

According to the tank diameter (Usually 200 mm shorter than tank diameter)

Slot Range(mm)

Normal 0.2, 0.25, 0.3, 0.35, 0.4 (can be customized)

Wedge Wire(mm)

1 x 2

1.5 x 2

2 x 3

Support Rod (mm)

1.5 x 2.5/2 x 3

1.8 x 2.5/2 x 3

2 x 3/2 x 4

Note

It can be produced according to the drawings
Feature of Wedge Wire Water Distributors
1)Water wedge wire distributor is not easy to clog and has the function of back cleaning
2)Corrosion resistance and long service life
3)Uniform slots and superior liquid distribution performance
4)Suitable for large,medium and small towers
Application of Water Distributor
Water distributor is a key component in packed tower,which not only affects the mass transfer efficiency of packing,but also affects the operation flexibility of packing.In order to reduce the amplification effect caused by bad liquid distribution and give full play to the efficiency of packing,liquid distributor must be installed in the packed tower to distribute the liquid evenly on the top of the packing layer.There are many kinds of distributors,and the selection basis mainly includes distribution quality,operation flexibility,handling capacity,gas resistance,and levelness.
Tags: Water Wedge Wire Distributor,Header Laterals,Hub Radial Laterals