Schroeder Wedge Wire Sieve Tube uses the whole welding process to ensure strict continuity of products and uniform gap size.Compared with the current domestic welding process,Schroeder sieve tube has considerable advantages in terms of surface smoothness,gap uniformity and product quality, thus ensuring the product quality.It is excellent quality and efficient.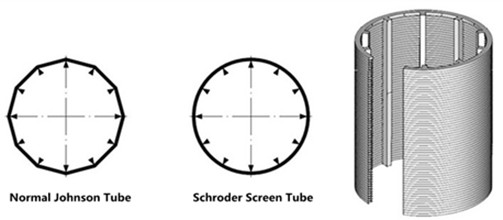 Material
Low carbon steel,Galvanized steel,Stainless steel 304 304L,316,316L,Monel,Hastelloy,etc.

Specification
Slot size: 0.02,0.025,0.03,0.04,0.05,0.06,0.08,0.10,0.15,0.2,0.25,0.30-35
Tube length: 50mm--6000mm

Outer diameter: 25mm--600mm
Profile wire: 0.75*1.5mm,1*2mm,2*3mm,2.3*3mm,3*5mm

Support rod: DN25mm/12 rods,DN33mm/8 rods,DN37mm/8 rods,DN40mm/10 rods,DN60mm/12 rods

Connection form: bevel connection or thread connection, direct pipe head or threaded pipe head.

Feature
1. Non blockage;

2. High strength,no deformation;
3. Great currency,large flow rate;
4. The adaptability of temperature change is good;

5. Adjustable clearance,no need to mold;
6. Acid proof,alkali resistant and long service life
Application
Schroeder Wedge Wire Sieve Tube is widely used in power plant equipment,petroleum,pharmaceutical and chemical industry,coal,metallurgy,papermaking,food and beverage,beer production,environmental protection and other industries of water supply,condensate and other industrial water treatment filtration and matching.
Profile Wire Size Table

Tags: Schroeder Wedge Wire Sieve Tube,
Johnson Screen Filter Tube