Wedge Wire Water Filter Nozzle is also known as Johnson screen filter nozzle,it is fabricated with a blind cap on one end and washer fixed with a threaded stem on the other end and can be secured with a nut and washer,usually installed in a vessel by an orifice plate.Usually,it is produced to suit customer requirements and are not restricted by screen diameter,connection type,slot or length.These Johnson screen filter nozzles are used in common water treatment processes for activated carbon absorption,removal of suspended solids,sand,gravel or ion exchange.

The types of Water Filter Nozzles
Tubular single head,tubular double head,plate type single head,long handle type,double flow speed type,high pressure water strainer,etc.

Material: Stainless steel 304 304L 316 316L,etc.

Specification
The wedge wire screen nozzle strainers/sand filter nozzle with thread coupling can be fixed on the filtering equipment for the filteration of water petrol resin and other medium.
The different wedge wire sizes and slot sizes can suit different class filtration.
Standard nozzle is 2in/51mm diameter and can be attached to the plate either with threaded end fittings or "L" blots;

Standard slot opening range between 0.006"(0.15mm) and 0.020in./0.50mm wide,suitable for 40 to 50 mesh size media,other size can be customized.

Application

Wedge wire nozzles are effective in a wide range of water treatment and other industrial applications for filtering and screening.For example,under drain media retention elements, flow distributors in demineralizers,water softeners in pressure and gravity sand filters.It also can be used as collectors at the bottom of the vessels.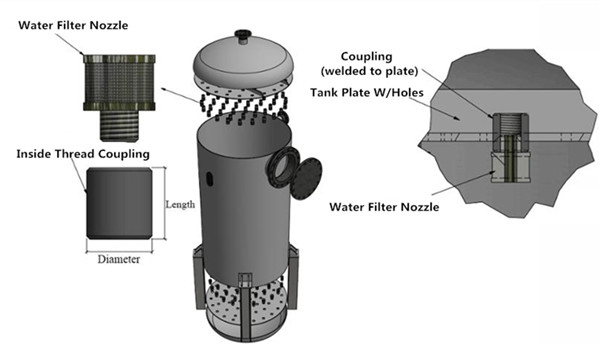 Tags: Water filter nozzle,
Wedge wire screen filter
,Johnson screen filter nozzle