Wedge Wire Screen is welded by profile V-wire and support wires,also called Johnson screen.It has large filter area because of slot opening,vee wire structure is easy for automatic back washing and avoid pipe blocking.The pressure will be reduced when water flows in greater filter area,avoid the grains of sand flow in the wedge wire tube in the high pressure conditions,so extend the pipe's life.
Materials: Stainless steel wedge wire ss304 304L 316 316L,etc.
Types: Flat wedge wire screen,Sieve bend screen,Helical spiral steel pipe,Precipitation filter pipe,wells filter pipe,Wire wrapped screen,Oil well sand control screen, Johnson screen tube,wedge wire basket,etc.
Technical drawing

Feature
High mechanical strength can bear large pressure drop
Equal slots for filtering can form equally distributed filter cake
The wedge type slot can improve back flushing and regeration performance
It has resistant to pressure temperature aging corrusion can be applied for different kinds of fluid.
Specification
Slot size: 0.1 - 6.0 mm,also can be customized as request
Length: max 6.0 meters
Diameter: 25 - 1200 mm
Wedge Wire Specification Table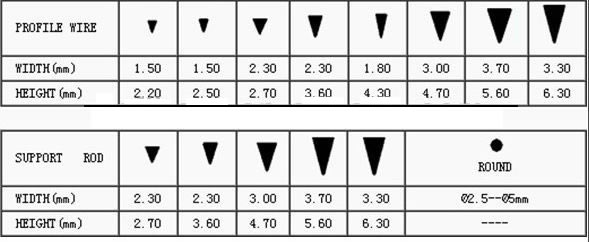 Application:Widely used in mining,coal,petroleum,fertilizer,food,salt,environmental protection and other industries.