We are professional in making kinds of Rotary Drum Screen,which is the key component of solid-liquid separation equipment.This rotary screen can be used in industrial and municipal wastewater solid-liquid separators,and can also be used in livestock farm manure dry-wet separators.Its biggest characteristic is the high efficiency filtration,has the higher strength,is not easy to deform,the service life can be up to 10 years even more.It is also can be used as an important part of other environmental protection equipment.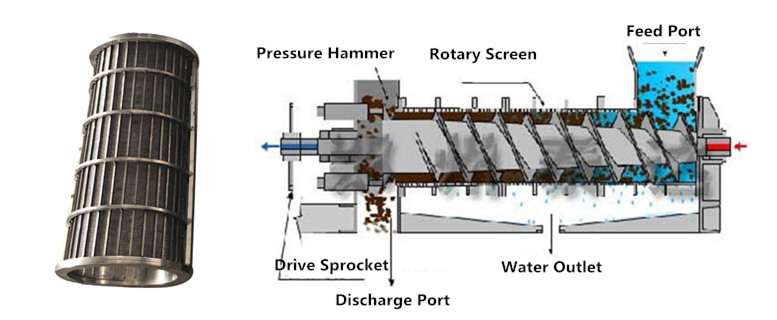 Specification
Material: SUS 304,304 L,316,316 L,321,Duplex 2205 2507,904 L,Hastelloy,etc
Wedge Wire Size: width 1.50 1.80 2.30 3.00 3.30 3.70 and height 2.20 2.50 2.70 3.60 4.30 4.70 5.60 6.30 7.00
Support Rod Size: Width : 2.30 3.00 3.30 3.70 and height 2.70 3.60 4.70 5.60 6.30
OD Range: from 1" to 45" and length up to 6000 mm
Slot Opening: 0.10,0.15,0.20,0.25,0.30...3.00 also achieved upon request
End Finishing: Thread fitting,flange,closed plated,resistance welded closed plate,metal ring,etc
Types
1)Pulp washer rotary drum screen
2)Black liquor ratory screen filter drum
3)Paint coating sieve rotary drum screen
4)Dry wet separator wedge wire rotary drum screen
Application
Water-treatment,beer brewing,water well drilling,oil well drilling,mineral processing,coal-cleaning plant,refining & petrochemical fields.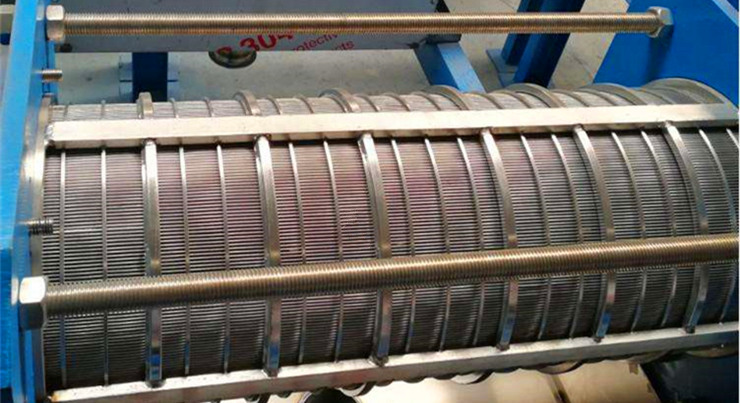 Feature
1)Not easy to clog,V-shaped surface wire to form wedge-shaped gap,effectively prevent blocking;
2)High precision screen seam,automatic welding to ensure the accuracy of screen seam;
3)It is easy to clean,and the surface can be removed by scraper type and high pressure back blowing method;
4)Small pressure loss,high mechanical properties;
5)Long life and low maintenance cost;
6)High strength,hardness can reach 2000 n/mm2 Hv458-600
After years of research and experience accumulation,we have done a lot of data analysis on the strip width,ripple angle and depth of wedge screen,summed up the applicable bar size specifications suitable for various process links,and ensured the improvement of screening efficiency and good pulp quality.
Tags: Rotary Vacuum Drum Filter,Channel Drum Screens,Rotary Drum Sieve