Flat wedge wire screen panel also named johnson wedge wire screen panel or flat wedge wire sieve plate.According to different structures,it can be divided into framed wedge wire screen panels and unframed wedge wire screen plates,Integrated and separable wedge wire sieve plates.

The flat wedge wire sieve plate is an important part of the screening machine to complete the screening process.Each screening machine must select the sieve plate that meets its working requirements.Various characteristics of materials,different structure of sieve plate,materials and various parameters of screen machine have certain influence on screening capacity,efficiency,running speed and service life of vibrating screen.Different sieve plates should be used in different materials and different places to achieve the best screening effect.When the vibrating screen vibrates,the wedge wire sieve plate separates the materials with different particle sizes through different shapes,sizes under the action of vibration force,so as to achieve the purpose of classification.

Specification
Material:Stainless steel 304,304L,316,316L,321,430,mild steel,manganese steel,etc.
Shape:Square screen panel,rectangular screen panel,circular sieve plate
Constructure:1) Framed wedge wire screen panels and unframed wedge wire screen plates;2) Integrated and separable wedge wire sieve plates.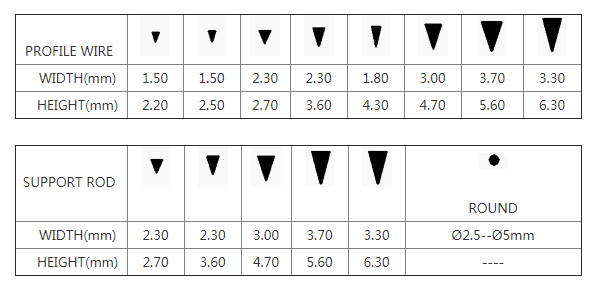 Slot size:0.10,0.15,0.2,0.25,0.30-3 mm,we can produce according to customer's demand.
Feature
1)It has good wear resistance and long service life,which is more than 10 times of other metal screen and 3-5 times of ordinary rubber plate;
2)Uniform screen slot,stable welding quality,high opening rate,long service life,high strength,rigidity and bearing capacity;
3)The cost of ore consumption per ton is lower than that of metal screen;
4)Shock absorption and noise reduction,10bb times lower than metal screen;
5)Automatic cleaning, high screening efficiency.

Application
It is widely used in mining,coal,oil,fertilizer,grain,salt,environmental protection and other industries,screening liquid,powder and other materials,petroleum,chemical,metallurgy,mining,pharmaceutical purification,filter tank,water treatment equipment,drilling fluid purification,etc.According to the needs of users,the screen plate of various shapes and needs can be manufactured.
Tags: Flat Wedge Wire Screen Panel,Wedge Wire Sieve Plate